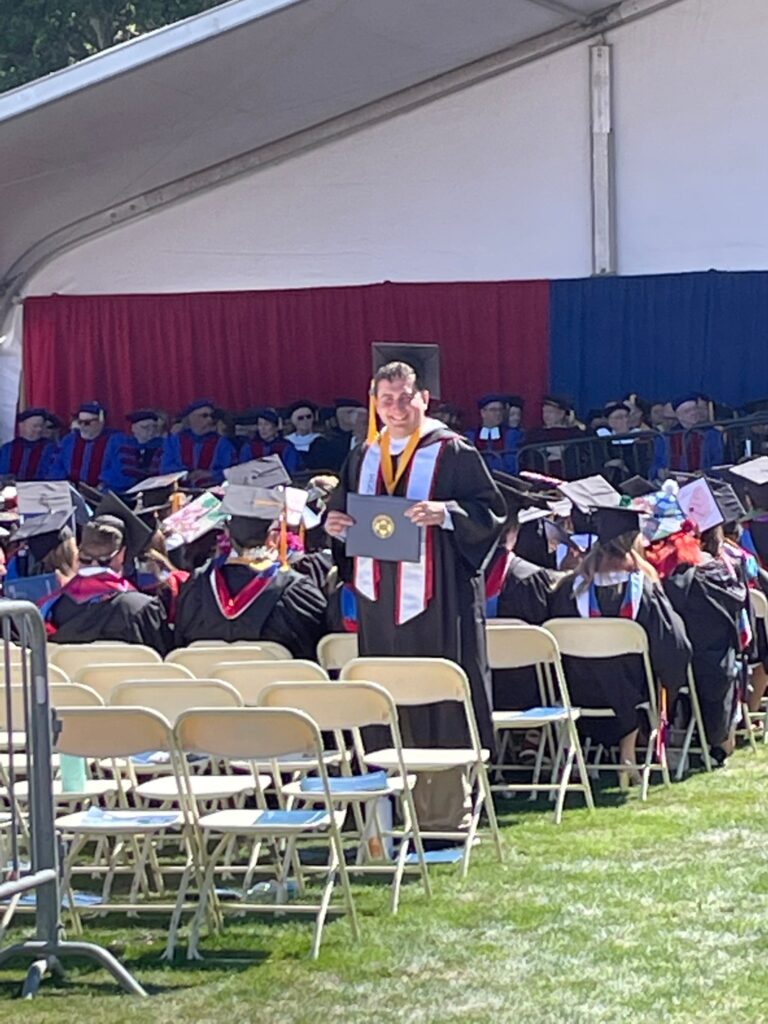 It has been ten days since I graduated from college as I am writing this. Seven days ago, there was a mass shooting in Uvalde, Texas. I can't stop thinking of the families and how nineteen students will not be able to graduate from their elementary, middle, or high school because we are held hostage by 50 senators.
This should not be a political issue. In most other countries, students can attend their classes feeling safe and secure without the fear of a potential threat from either a gunman or police officers failing to protect them.
Last Tuesday showed us as a nation the inability of America to have safe classrooms, but this issue showcases a wider, systemic problem. When students are worried about being shot at, not all students are being served, especially the 1 and 5 with a learning difference (LD). 
In understanding both the shift to remote work and the necessary accommodations for it to happen successfully, I argue we must create a more accommodating workplace across the board. 1 in 5 Americans live with a learning/thinking difference (dyslexia, dysgraphia, ADHD, Autism Spectrum), and the recent numbers are a cause for concern.
Fred Poses, the CEO of Understood.org, a leading voice in the LD community, argues that there are actionable items that companies can do to make their workplaces more inclusive who learn differently, starting with "normalizing discussions such as disclosure in the workplace. Bring inclusive language about cognitive differences into hiring and HR practices. Ask prospective and current employees if they need accommodations for their invisible disabilities. Then, it is possible to begin to further build out the culture of inclusion."
According to data from a report from the National Center for Learning Disabilities (NCLD), there is a huge gap in high school completion, "Approximately 35 percent of African American, Hispanic and Native American students with disabilities left high school without a regular diploma in 2014-2015, compared to less than 25 percent of Asian and white students." In understanding that most jobs require a 4-year degree, students of color with learning differences are already at a disadvantage, let alone the financial burden that a four-year degree can have on a family.
Dena Simmons, a Social-Emotional Learning (SEL) Educator and founder of LiberatED, argues that American education is rooted in this notion of "inequity by design." Furthermore, to rectify this, she asserts that we must collectively understand the nuances of the individual and the collective, "I think we continue to think about what's good for my child, instead of what's good for our children. We need to move beyond that self-centeredness". Simmons' framework is essential to not just the education system but how we nurture students and young professionals looking for their first jobs and beyond.
The notion that anyone, let alone a student with learning differences, would know exactly what they want to do at 18 is absurd. However, we must give every student the level of support needed for them to succeed. College education or relevant vocational experience and training are imperative for students to become productive members of society. The first step is to create a community where job options, school accommodations, and other issues can be discussed and where strengths are celebrated.
In his recent article in The Hill, Dave Flink of Eye to Eye argues that students with learning differences have "the talent, knowledge and ambition to root out ableism and help change our education system for the better. We need to give them a seat at the table if our leaders won't step up to change the equation. After struggling through the pandemic, they're more fired up than ever and ready to lead. Their voices will change the tapestry of our world, along with the education system we all need. If we just listen."
 How we tackle the systemic education issue is indicative of the culture we strive to make in the workplace. Eye to Eye mentors students with learning differences through "near-peer" mentoring in a fulfilling relationship for middle and high schoolers. A sense of community and self-awareness is shared throughout. By seeing the employee-employer relationship as a vehicle to create powerful change regarding awareness and disclosure, we can create a more equitable society where people who learn and process information differently are treated with the respect we all deserve. 
There is a disconnect in America in framing issues of importance, and this framing is the identity that becomes a political issue. How we support students who learn differently, like how we combat gun violence, indicates how we view children in our society. Must we let them fail, or can we allow them to succeed and thrive as they should? As someone constantly questioned and prophesized by "professionals" who told my parents I wouldn't read or write, I understand how defeating and isolating having a learning difference can be. 
The need for community is why I envisioned The RILEY Project, an organization based on the power of connection and knowledge in the LD community and beyond.   At the RILEY Project, we strive to share students with LD's stories to bring awareness to where they are succeeding and where we must create more opportunities for success in our current education system. By showcasing the talents of students with LD, we will create an environment where students are self-aware and understand their strengths and weaknesses, providing them with a sense of agency they may not get in a traditional classroom setting.